[ From the Living Walls mural project series ]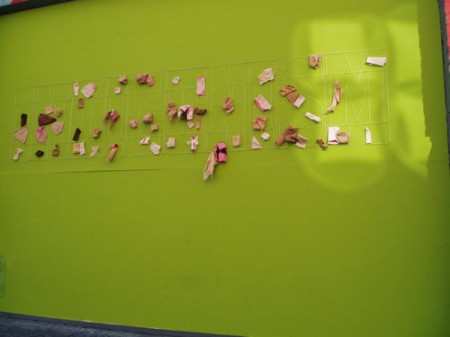 A Way of Thinking: INDIGENISM
10.2004
Participatory Mural Installation
A Way of Thinking intends to question; what is Indigenism in this post-colonial era?
This participatory mural was an invitation for audiences to explore with the artists and collaborators the relationships we have towards our indigenous roots and our colonial positions of power. It consisted of an minimal installation, which provided the materials and instructions for participants to figure out how to fill in the word "Indiginism" outlined with nails and twine.
These were the general instructions:
– Select a piece of fabric that represents the color of your flesh.
– On a piece of red paper, write secretly the names of your ancestors and identified if they had been colonized and/or colonizers.
– Finally, wrapped the red paper with the fabric and nailed your bundle inside the word.
Also, an initiation welcoming ceremony was conducted by Antonia Chavez.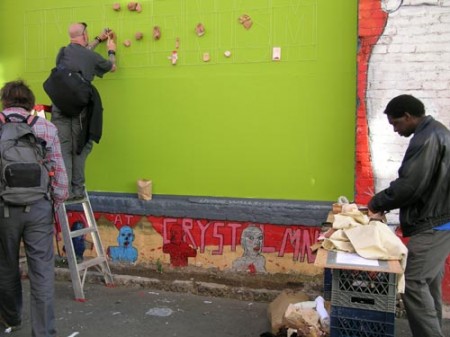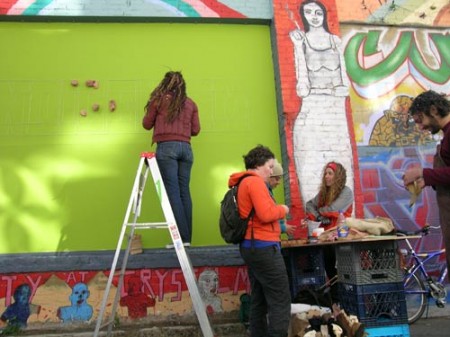 Dedicated to: Peace and Dignity Journeys
Created by: Mabel Negrete (project leader) in collaboration with Antonio Chavez from (Peace and Dignity Journeys), around 40 paticipants from the Clarion Alley Block Party and SFPC members