[ Project developed and archived at the Counter Narrative Society (CNS) ]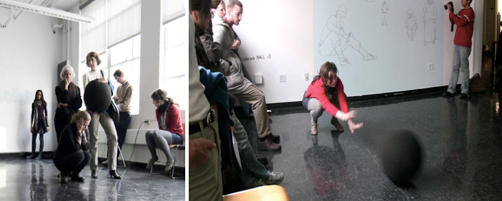 Wounded Witnesses, Wounded Storytellers shedding light on the systemic and traumatic effects that relatives have to face after someone in their family has been incarcerated in the U.S.
Between Oct-Dec 2009
Tactical Sound Object for Participatory Installation and Live Actions
Under the research unit the Counter Narrative Society, I developed a pilot project titled the Passing the Ball: Wounded Witnesses Wounded Storytellers. The purpose of the project started by asking myself how could I learn to express my heartbreaking stories and of those near my life in a safe, playful and inquisitive way in order to overcome "la llorona effect" (crying woman) inside my body and be a better advocate in public life. As a result, I made an audio interactive device the Talking Ball to accompany a multimedia live action, public intervention and participatory installation .
For the 1st version, I did a multimedia live action. For the 2nd version, I did a public intervention outside the Mission High School, San Francisco – CA. For the 3rd version I did a participatory/performative installation at the MIT Program in Art, Culture and Technology. For the last event, the project included the stories of three women in my life whom I interviewed and I asked: How have the incarceration of their relatives affected their life?
For more information about this project >> visit this website
3rd Participatory Sound Installation